EE3340TU Microwave Sensors and Radars for Airport Applications
Topics: Radar sensors in Airports and in aviation related applications. Part of the Minor "Airport of the future"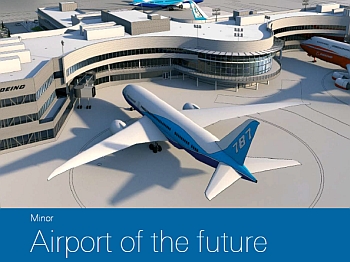 The course aims to provide students with a general understanding of the functional role and operational principles of the microwave systems and sensors including radars in the airport for surveillance, navigation, security, traffic control and weather observation. The students will implement the obtained knowledge about the sensorís design and operation by doing laboratory practicum with real radar sensors and preparing technical report for selected topic as a final assignment.
Part of lectures are given by invited world-wide top level researches from academy and industry with a goal to provide to students the state of the art overview of the technology progress in avionics, air traffic control radars, weather radars, the research and industrial trends in radar sensors for airport applications.
Contents
Introduction: role of microwave sensors and radars for airport applications
Basic knowledge of microwaves, propagation and scattering
Microwave sensors and sensor systems;
Principles of radar operation
Sensors for air traffic monitoring and guidance
Navigation radars, synthetic aperture vision
Radar technology for airport area surveillance: intruder detection, tracking vehicles and persons
Microwave imaging for airport security: passenger and luggage screening
Radars for environment surveillance (weather, vertexes, birds)
Study Goals
Develop understanding of the role of microwave sensors in airports
Develop insight in the radar operation principles
Obtain knowledge about the microwave sensors and radars working for air traffic monitoring and guidance
Build understanding about the role of microwave systems in navigation
Get knowledge about the environment surveillance using microwave technology.
Teachers
dr. Oleg Krasnov
Radar; polarimetry; signal processing; remote sensing
prof.dr. Alexander Yarovoy
microwave systems, radar
dr.ir. Bert-Jan Kooij
Electromagnetism
Last modified: 2016-02-24