MSc Albert OudeNijhuis
PhD student
Promotor: Alexander Yarovoy, Herman Russchenberg, Oleg Krasnov
Themes:
Radar for Remote Sensing and Targets Characterization
,
Radar technology
Albert Oude Nijhuis is a PhD candidate at Delft University of Technology (January 2013 - Now).
He received his MSc degree in Meteorology and Physical Oceanography at the University of Utrecht in 2012.
He worked as a satellite remote sensing researcher at the Royal Dutch Meteorological Institute (KNMI).
He worked on improvements for the OMI totale ozone column DOAS technique and for the ISOTROP project on satellite retrieval error estimation of e.g. tropospheric NO2 for the new generation of European Sentinel research satellites.
In January 2013 he started as a PhD candidate at TUD, working on new retrieval methods for wind and turbulence parameters by using radar and lidar observations.
Public Code Projects:
Research interests
Turbulence modelling
Radar signal processing
Meteorology
Oceanography
Projects history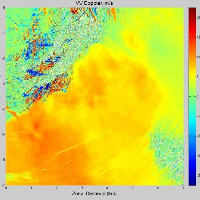 Ultra-Fast wind sensOrs for wake-vortex hazards mitigation
Last updated: 18 Oct 2016